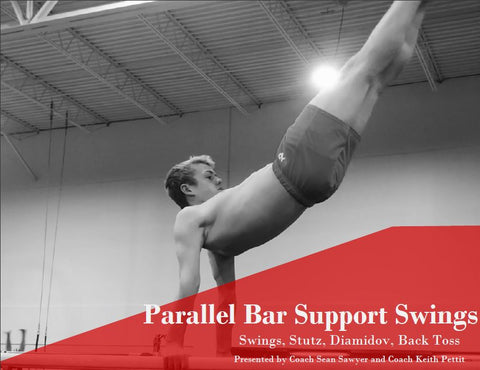 Parallel Bar Support Swings (Swings, Pirouette, Diamidov, Stutz, Back Toss)
This tutorial gives detailed exercises and drills to perfect your parallel bar support swing and learn Pirouettes, Diamadovs, Stutzs and Back Tosses.  It goes through drills for each skill and how to spot them.  It also discusses common mistakes made on each of the skills and how to fix them.
Who is this tutorial geared to?
While a lot of the content on coachkeithpettit.com is geared to the calisthenic or crossfit type athlete, this one is geared more to the gymnast/gymnastics coach/gymnastic parent. With that being said a lot of the principals can help the calisthenic/bodyweight type athlete or anyone that just wants to learn more about gymnastics.
What is included in this document?
We start with showing what we want in a support swing and how to perfect it.  We then move towards to more advance support skills. Each drill shows pictures, descriptions and a video.  Here is a sample page:
Will you ever update it?
Yes, that's the best part of all the tutorials anytime we make a correction or addition you will be notified and given a new link to download the updated pdf.  Just like you we are always learning - and Coach Sean is always inventing new drills - and you will always have access to the most recent!
Will this teach me a giant or peach?
No this document only covers support skills.  If there is a need for giants or peaches we can do an underbar tutorial also.
How do the videos work?
You will need to be connected to the internet (wifi or phone) to have the videos work. You can click on any area of the text and the video will load.  Additionally, if you print out the document you can scan the QR code to view the video on your phone.
Will there be tutorials on other gymnastics skills?
Yes, I am working with Coach Sean (@coachseands  on instagram) on other events.  Check out the basic tumbling or press handstand tutorial. If you need any help you can always email me at coachkeithpettit@gmail.com and I will answer your question.  If you have an idea for a future tutorial you want, let me know!
---
We Also Recommend
---