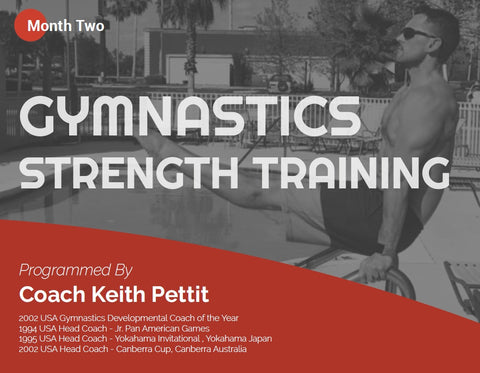 Gymnastics Strength Programming - Month #2
What's new?
The second month continues the format of the first month but is more varied and more fun.  In the first month we dealt with more basic exercises - push ups, pull ups etc. This month we introduce more skill work.  Including:
1. Pull overs on the bar
2. Monster/Russian Dips
3. Variations of your tuck planche
4. Drills to learn a freestanding handstand push-up
5. Forward rolls on rings
Once again all these new exercises have videos that are available by just clicking the text in the programming.
What does this document/ programming include?
I took a long time to develop this programming - almost 30 years!  I went and looked through the strength workouts that my gymnasts do and tailored them to the adult athlete. 
This programming consists of five workouts a week for four weeks. Each workout is broken into the Standard Workout and the Elite Workout.  You can choose one workout or choose a combination of the two workouts since an exercise in either column can be used.  In the appendix there are even more ways to scale each exercise.
Most exercises have a link to a video, so you can see the proper technique.  The appendix  breaks down the less common exercises with a picture and important description.There is an area to keep notes (you need to open in Acrobat Reader on your phone/tablet if you want to take notes) and track your progress also.
Here is a sample page from the programming:
What if I don't know what each exercise is?
Each exercise contains a video.  Just click on the text and watch a video of the exercise.  Also the appendix contains descriptions and videos of the less common exercises.  Below is a sample page from the appendix.
Is this ok for people that are new to gymnastics training?
Yes, I do recommend that you can do pushups, pull ups and are able to do handstands against the wall.  You will be upside down a lot! The program has many different scaling options.
I am into crossfit and just want to work on my gmnasty type skills, is this for me?
Yes.  We spend a lot of time on handstands, handstand push ups, muscle ups and dips.  We also spend time on other more difficult gymnastics skills like a planche.   These skills will improve your strength and body awareness. 
A lot of the boxes I have visited the programming spends a lot of time on the Olympic lifts and not as much time on gymnastic type movements.  You must spend time on these movements to get better.   
I am advanced athlete and want to learn difficult skills like crosses and planches is this good for me?
Yes, with the Elite track there are exercises and variations for planches, malteses, press handstands.   Each month we will introduce new exercises as you get stronger. If you ever want even more difficult programming, you can contact me and we can fine tune this programming for you!
I already workout a lot during the week and just want to augment my existing training can I do that?
Yes.  Each workout consists of a warm up, the workout and additional exercises.  The additional exercises are for the athletes that use my programming exclusively.  If you also lift weights, you can just do the pre-workout and the regular workout. 
What else do I need?
You will need parallelettes, bands, some weights,  a bar and a it is recommended that you have rings.
How is this different than other programming?
Keep in mind, I have coached 30 years, was an elite gymnast and worked a lot with adult athletes.  This is not just a bunch of exercises thrown together.  Each day/week has a purpose and each week's workout build on the previous workout. 
My favorite day is sequence day.  This is when you will be putting together a mini routine of different gymnastic strength moves.  You will be surprised how tiring and fun this is!  The goal is to try to do each sequence perfectly!  Each sequence also contains a video demonstration by just clicking on the text.
Remember before you begin consult a doctor  to ensure you are physically ready.  
If you have questions or need a clarification email me at coachkeithpettit@gmail.com. I like to hear how your training is going, so go ahead and drop me an email or direct message on instagram
---
We Also Recommend
---