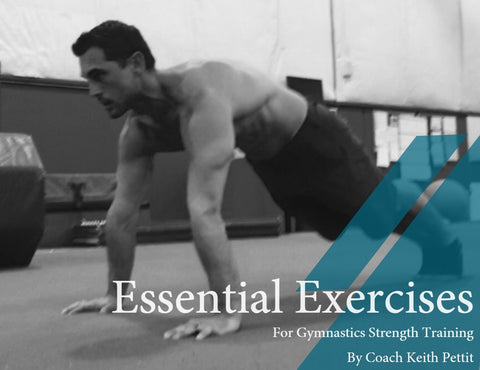 Essential Exercises for Gymnastics Strength Training
A gymnast practices many hours a week.  A lot of time is spent performing gymnastics moves but an equal amount is spent stretching and doing strength to prepare them for these skills.
This tutorial is a combination of stretches and exercises we do to get our bodies prepared for the day's harder training.  The purpose of this tutorial is not hard strength exercises but movements you need to incorporate into your work out in the beginning or end of workouts.
Make sure you are healthy before beginning any of these activities.
I have broken this tutorial up into stretches and strength exercises for different body parts.  Each day you should choose 2 exercises and stretches in a body part to begin your workout.  This will improve your mobility and help you be pain and injury free.
I have also included some basic "floor work" exercises that can be incorporated into your warm up to work on your shapes and strength.  
The best part of Coach Keith's tutorials is they are a living document.  Often new tips or exercises are added and when they are you will be emailed an updated copy!
Do you have mobility or strength issues that affect your gymnastics movements? Do you have a hard time getting warmed up before you begin your intense training?  Well Coach Keith is here to fix that!  You may have seen his tips on Instagram - this tutorial is like that only much better.  It consists of 37 pages of almost 80 videos, detailed explanations, tips, exercises and pictures to help you get your body prepared for your workout. Including some that he has never posted on Instagram.  No matter what your deficiency may be - flexibility or strength. Coach Keith will explain how to overcome them.  Sometimes one small tip can make a huge difference - well how about 37 pages of tips!
Why would I buy this when I can just search on youtube or  Instagram?  There are many reasons.  This tutorial goes into much more detail with the exercises than is possible on Instagram or youtube and it's one document that covers all the drills and progressions in one organized place.  As an added bonus you can print it out, and have it as reference material for when you go to the gym.  If you need to look at a video - use the QR codes next to each exercise and you can have instant access to the videos.
When you program or complete a workout do you have a hard time with exercises that you or your student just can't do?  Included in this tutorial are many scalable exercises that will teach you to get those more difficult skills.  As you get better, you can move up to a harder progression.  Coach Keith has been in the gymnastics industry for over 40 years and these are the very exercises he has his gymnasts do to help them become world class athletes.


---
We Also Recommend
---